Product Description
Details
LUKAS LK-9370WD DUO Dashcam



---
Featured Lukas LK9370 Duo Video's Front Camera
---
Featured Lukas LK9370 Duo Video's Rear Camera
---
LK9370 Features
This LUKAS LK-9370 WD might well be the most versatile dashcam available at the moment. The LK-9370 WD is equipped with all imaginable options, like Wifi, G-sensor, Motion detection and a big 3.5 inch LCD touchscreen. These features make the LK-9370 WD one of the best dashcams in the world.
Wifi
The great LUKAS LK-9370 WD comes with a Wifi dongle included to allow an connection with your smartphone or tablet. All recording can be exchanged through the wifi which allows for live playback and sharing the files on social media. The specially developed LUKAS app for iOS and Android is available for free. Another great Wifi feature is the automatic software updates that are created when the camera is connected to your wifi at home.
Dual Sony 2.1M Effective Pixel IMX 322 sensor
This extraordinary LK-9370 WD is fitted with two of the best Sony 2.1M IMX 322 sensors. These sensors enable front and rear crystal clear 1080p FullHD recordings. The front camera has a 135 degree wide view lens and records in 30fps. The rear camera records in 24fps and is fitted with a 130 degree wide view lens.
2CH recording
LUKAS LK-9370 WD allows simultaneous front and rear recording in your car. The camera has two high-end SONY camera's to secure the entire surrounding of the car. Both images can be viewed on the screen at the same time or apart from each other. The rear camera is connected to the front module through a long 5 meter cable (included).
512gb storage capacity
High capacity storage is very important with high quality 1080p video's. The LUKAS LK-9370 WD has an amazing total 512GB storage capacity. The camera offers one 256GB SD card slot and one 256 MicroSD card slot. Record over 100 hours of 1080p video with this amazing LK-9370 WD.
Built-in GPS
Due to the built-in GPS in the LK-9370 WD it keeps track of all locations where recordings took place. The GPS also allows for the current speed to occur in the screen.
Automatic low voltage Cut-off
The smart built-in low voltage cut-off device in this LK-9370 WD detects when the car's battery is running low and shuts down the camera in such cases. The minimum voltage can be manually changed according to car type and season. You can safely leave this LK-9370 WD recording in your car.
Built-in super capacitor battery
The LUKAS LK-9370 WD has a built-in super capacitor battery. This battery enables the dashcam to keep recording after the power is suddenly shut down due to an accident or other situation. The critical seconds and minutes after an accident are therefore also recorded.
---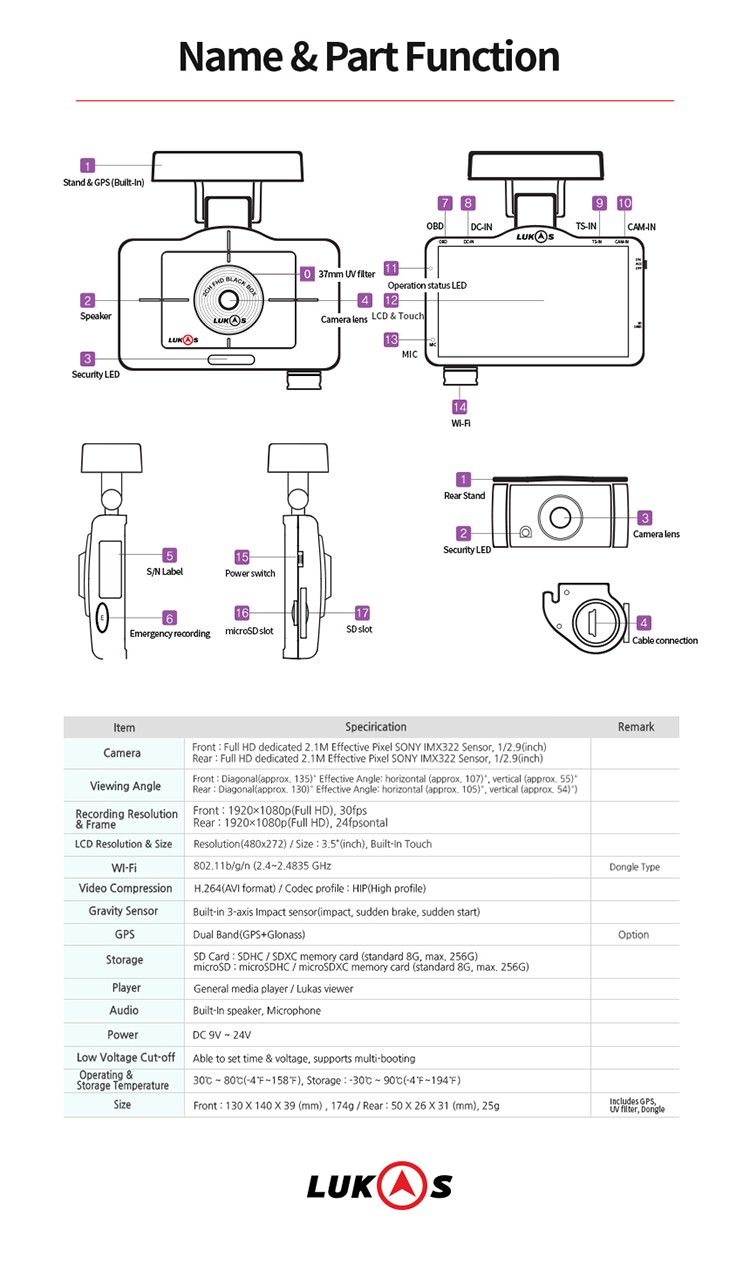 Additional Information
Additional Information
SKU
LK9370-DUO
MPN
LK9370
GTIN
8809359724702
Manufacturer
Lukas
Dashcam Features
GPS, Full HD 1080P, Dual Channel
Product Type
Dashcam
Specifications

| | |
| --- | --- |
| EAN | 8809359724443 |
| Type | 2CH (front & rear camera) |
| Camera | Front and rear: SONY 2.1M IMX32 |
| CPU | TI |
| Wide view angle | 135˚ / 130˚ |
| Video resolution | 1080p / 1080p |
| Recording speed | 30fps |
| Sensitivity | 0.5 Lux |
| Voice guidance | Multi language |
| Video compression | H.264 (AVI format) |
| G-sensor | Built-in |
| GPS | Built-in |
| Loop recording | Yes |
| Storage (GB) | 16gb |
| Super cap battery (back-up) | Yes |
| Power consumption (mA) | N.A. |
| Low voltage cut-off | Yes |
| LCD / Resolution | No |
| Audio | Built-in speaker / microphone |
| Video output | Yes |
| Sequrity LED | Yes |
| Auto start | Yes |
| Auto format | Yes |
| DC Power | DC 9 - 24v |
| Operating temp. | -20˚C ~ 80˚C |
| Size (mm) | F:130*140*39 - R:50*26*31 mm |
| Weight | 199 |
| Manufacturer | LUKAS |
Reviews
Delivery

We do all we can to ensure that all our orders arrive in record time. All our orders ship with either Australia Post (Express Post) or Fastway Express Couriers (whichever we feel will get to your destination faster). Typically if we receive your order prior to 2pm AEST we ship your order same day its placed. Once shipped our orders normally arrive within 1-3 business days (in most cases next business day to metro areas).
Standard Shipping We Offer
Australia Post Express Post - EPARCEL with Signature and Insurance
CURRENT PROMOTION - FREE STOREWIDE SHIPPING (Orders over $100)
Please be aware that in some cases, particularly on higher volume orders we may require a signature on delivery for additional security (don't worry we don't charge any extra for this service unlike others). Certain products are not able to be shipped by air so we'll do our best to figure out which carrier to use to get your item to you within our required Express deadlines.
View Christmas Delivery Schedule
You may also be interested in the following product(s)