Product Description
Details

Nikon Coolshot 40i Laser Rangefinder
Now measuring up to 590 meters/650 yards and lighter than ever, the COOLSHOT 40i is designed for golfers eager to improve their skills. It incorporates Nikon's angle compensation technology, which displays the slope-adjusted distance (horizontal distance ± height) and is ideal for use on golf courses with uphill and downhill slopes. First Target Priority Mode is useful to measure the distance to a flagstick on a green when there are trees in the background. Nikon's HYPER READ technology ensures the measured distance displays instantly (approx. 0.5 sec) regardless of how far you are from the target, allowing you to stay focused on the game. The multilayer-coated 6x high-quality finder offers bright, clear images.
---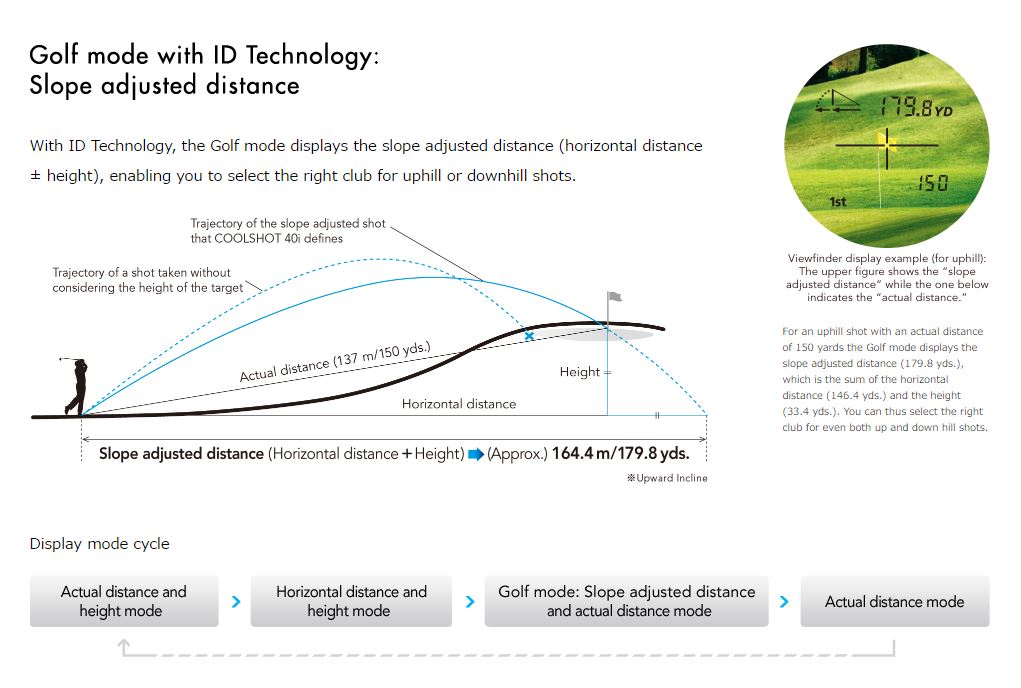 ---
Key Features
---
Measurement range: 7.5-590 m/8-650 yds.
Golf mode displays slope adjusted distance
First Target Priority mode is employed; when measuring overlapping subjects, the distance of the closest subject is displayed—useful when measuring the distance to a flagstick on a green with woods in the background
Target Priority Switch System offers two measurement modes: First Target Priority mode and Distant Target Priority mode
Single or continuous measurement (up to 8 seconds)
HYPER READ enables quick and stable measurement response regardless of distance
Measurement result is displayed in approx. 0.5 seconds
High-quality 6x monocular with multilayer coating for bright, clear images
Large ocular for easy viewing (18mm)
Long eye relief design affords eyeglass wearers easy viewing
Rainproof — JIS/IEC protection class 4 (IPX4) equivalent
(under our testing conditions)
Compact, lightweight and ergonomic design
Internal Features
---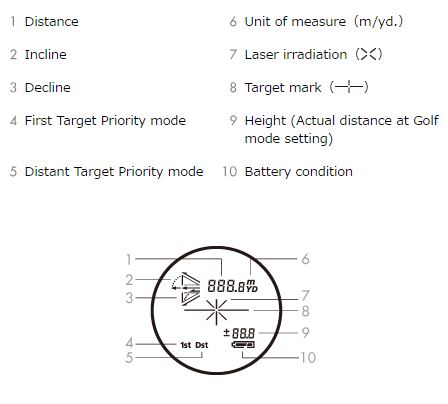 ---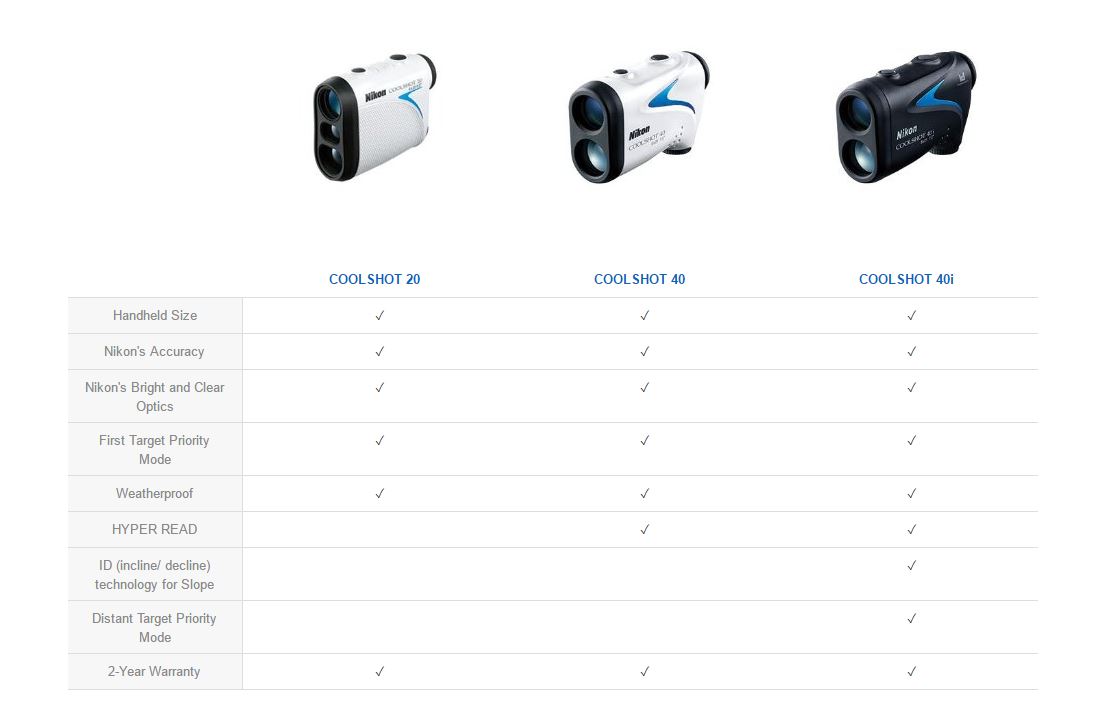 ---
---
Additional Information
Additional Information
SKU
NIKON-40i
MPN
7014404
GTIN
018208162024
Manufacturer
Nikon
Product Type
Laser Rangefinder
Specifications
Measurement range
7.5–590m/8–650yds.
Measuring accuracy(actual distance) *1
±0.75m/yd.
ID Technology
✓
HYPER READ
✓
Continuous Measurement
One-Push
–
Holding down the Power button
✓
Distance display : Increment
Actual Distance displayed in the upper part: every 0.5m/yd.
Actual Distance displayed in the right bottom part: every 1m/yd.
Horizontal Distance displayed in the upper part: every 0.2m/yd.
Height displayed in the right bottom part:
every ± 0.2m/yd. (shorter than ±100m/yds.)
every ±1m/yd. (±100m/yds. and over)
Slope adjusted distance (Horizontal distance ± Height)
displayed in the upper part: every 0.2m/yd.
Finder
Magnification (×)
6
Effective objective diameter (mm)
21
Actual field of view (°)
7.5
Exit pupil (mm)
3.5
Eye relief (mm)
18.3
Dimensions(L×H×M)(mm)
112×70×36
Weight (g) (excluding battery)
160
Power source
CR2 lithium battery × 1 (DC 3V) Auto power shutoff function equipped (after 8 sec.)
Structure
Rainproof − JIS/IEC protection class 4 (IPX4) equivalent (under our testing conditions)
EMC
FCC Part15 SubpartB class B, EU: EMC directive, AS/NZS, VCCI class B, CU TR 020
Safety
IEC60825-1: Class 1M/Laser Product
FDA/21 CFR Part 1040.10: Class I Laser Product
Environment
RoHS, WEEE
Reviews
Delivery

We do all we can to ensure that all our orders arrive in record time. All our orders ship with either Australia Post (Express Post) or Fastway Express Couriers (whichever we feel will get to your destination faster). Typically if we receive your order prior to 2pm AEST we ship your order same day its placed. Once shipped our orders normally arrive within 1-3 business days (in most cases next business day to metro areas).
Standard Shipping We Offer
Australia Post Express Post - EPARCEL with Signature and Insurance
CURRENT PROMOTION - FREE STOREWIDE SHIPPING (Orders over $100)
Please be aware that in some cases, particularly on higher volume orders we may require a signature on delivery for additional security (don't worry we don't charge any extra for this service unlike others). Certain products are not able to be shipped by air so we'll do our best to figure out which carrier to use to get your item to you within our required Express deadlines.
View Christmas Delivery Schedule
You may also be interested in the following product(s)
RRP: $529.99
Our Price $475.00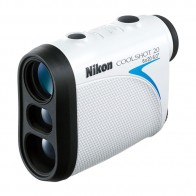 RRP: $329.00
Our Price $299.00
RRP: $449.00
Our Price $348.00