Product Description
Details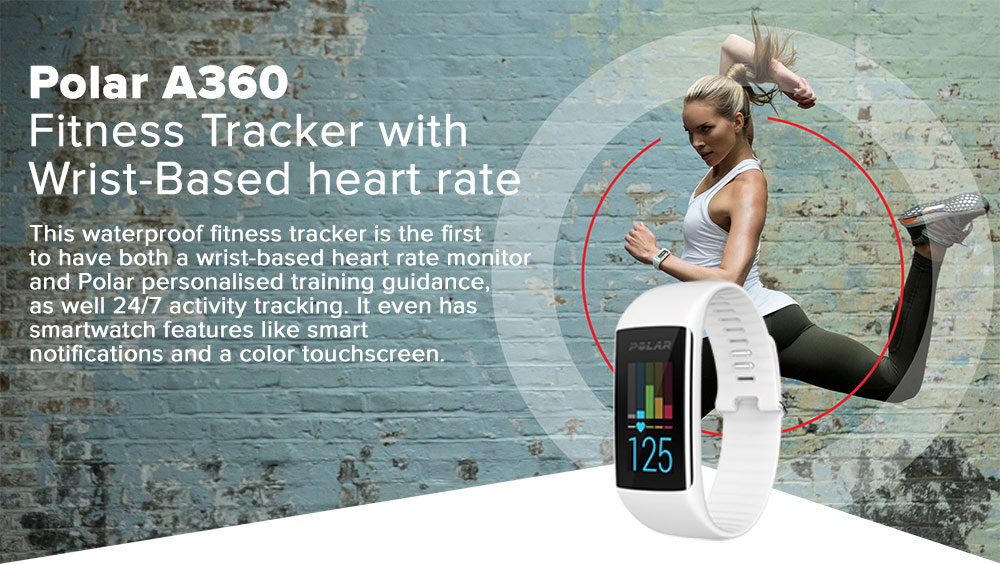 Your Perfect Training Companion
Polar A360 - Accurate Simplicity
The Polar A360 keeps you in the right heart rate zone and helps you to reach your training goals. Go for a run or walk and measure your speed and distance from the movement of your wrist, indoors and out. Follow the details of your training session directly from your wrist.
---
Smart Coaching
Activity Guide
Shows how active you've been during the day so far, and offers practical guidance like "walk for 50 minutes or jog for 20 minutes" you can choose how to reach your daily activity goal. Meet your goal faster with more intense activities, or spread your activity throughout the day and work up to your target at a pace that suits you.
Activity Benefit
Rewards you by giving you daily, weekly and monthly feedback explaining how your activities have been benefiting your health. You can check up on how you're doing either from the Polar Flow app or by using the Flow web service.
Smart Calories
Calculates the number of calories burned based on your individual data: your weight, height, age, gender, and the intensity of your activity. When you use wrist-based heart rate monitoring during your training sessions, the calorie calculation is the most accurate. The sport you are doing is also taken into account, giving you specific, accurate results.
Fitness Test (H7 Heart Rate Sensor Required)
A five-minute test that measures aerobic fitness from your resting heart rate, heart rate variability and your background information. Complete the test regularly to see the progress you're making.
Heart Rate Based Training
Shows your current heart rate and what heart rate zone you're in, enabling you adjust what you're doing to train at the right intensity level for your goal. You can set your own targets or favorites to aim for, and get guidance on how to keep the right intensity to get the benefits you want to achieve.
Training Benefit
Helps you to understand how each training session benefits your fitness, and gives you feedback immediately after exercising. The Training Benefit feature advises you on how you can make your training more varied by altering your training intensity and duration.
Sport Profiles
Polar provides over a hundred different sport profiles which enables you to choose the right one for your training sessions, and get sport-specific reports and feedback. All sport profiles are based on specific logic and give you the most accurate data, for example, about burned calories. Manage your sport profiles in the Flow web service.
Running Program
Train for a running event with a personal and adaptive training plan in Polar Flow. Choose from four different targets, 5K, 10K, half marathon and marathon, and get a training plan that fits you and your goals
---
A360 Features
Wrist based heart rate
Makes heart-rate based training more convenient than ever, just tighten the band and you're ready to train. Exercise at the right training intensity and get guidance how to reach your fitness goals.
24/7 Activity Tracking
Track your activity 24/7 and get practical support to help you achieve your individual daily activity goal.
Vibrating Smart Notifications
Stay up to date with phone notifications on your wrist, so you know if and when you need to stop.
Speed And Distance
Go for a run or walk and measure your speed and distance from the movement of your wrist – indoors and out.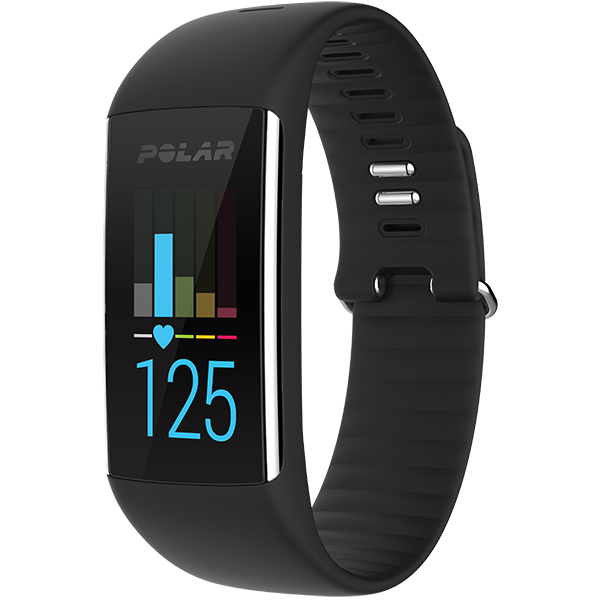 Steps and Distance
Tracks your steps and uses that data to calculate what distance you've traveled.
Smart Calories
Find out exactly how many calories you've burned. The calories you burn are calculated by combining your personal data (weight, height, age, and gender) and your daily activity and heart rate based training.
Sleep
Automatically tracks your sleep time and quality. Check and learn more about your sleeping patterns in the Polar Flow app and web service.
---
A360 Specifications

Measurement
| | |
| --- | --- |
| Weight | 31.7g (S), 33.7g (M), 37.3g (L) |
| Wristband thickness | 13.5 mm |
| Wristband width | 23.5 mm |
Technical
Waterproof (WR30)
Wide-viewing angle full color TFT display with capacitive touchscreen
| | |
| --- | --- |
| Screen resolution | 80 x 160 pixels (RGB) |
| Screen size | 13mm x 27mm |
Polar proprietary optical heart rate module (2 green LEDs, 1 photodiode, analog front-end)
Rechargeable 100 mAh battery
Battery life up to 2 weeks with 24/7 activity tracking, including 1 hour of training per day (without smart notifications in use)
Connectivity
Easy wireless sync via Bluetooth® Smart with the Polar Flow app
Micro USB connector for charging and data sync with PC or Mac via Polar FlowSync
Compatible with:
* Computer running Mac OS X10.6 or later and Windows XP, 7, 8, 10
* Mobile phones running iOS7 or later and Android 4.3 or later
* Polar Balance smart scale
* H7 heart rate sensor
* Apple Health Kit, Google Fit, MyFitnessPal (iOS users) and MapMyFitness 
* All compatible phones available here
Updatable Software
UI languages: English, Spanish, Portuguese, French, Danish, Dutch, Swedish, Norwegian, German, Italian, Finnish, Polish, Russian, Chinese (simplified), Japanese
---
A360: In the box
Polar A360 training watch/computer
USB cable
Polar A360 Getting Started Guide
Additional Information
Additional Information
| | |
| --- | --- |
| SKU | POLAR-A360 |
| MPN | 90057535 |
| GTIN | 725882028590 |
| Manufacturer | Polar |
| Product Type | Fitness Watch, Fitness Tracker |
| Specifications | POLAR A360 |
Reviews
Delivery

We do all we can to ensure that all our orders arrive in record time. All our orders ship with either Australia Post (Express Post) or Fastway Express Couriers (whichever we feel will get to your destination faster). Typically if we receive your order prior to 2pm AEST we ship your order same day its placed. Once shipped our orders normally arrive within 1-3 business days (in most cases next business day to metro areas).
Standard Shipping We Offer
Australia Post Express Post - EPARCEL with Signature and Insurance
CURRENT PROMOTION - FREE STOREWIDE SHIPPING (Orders over $100)
Please be aware that in some cases, particularly on higher volume orders we may require a signature on delivery for additional security (don't worry we don't charge any extra for this service unlike others). Certain products are not able to be shipped by air so we'll do our best to figure out which carrier to use to get your item to you within our required Express deadlines.
View Christmas Delivery Schedule
You may also be interested in the following product(s)