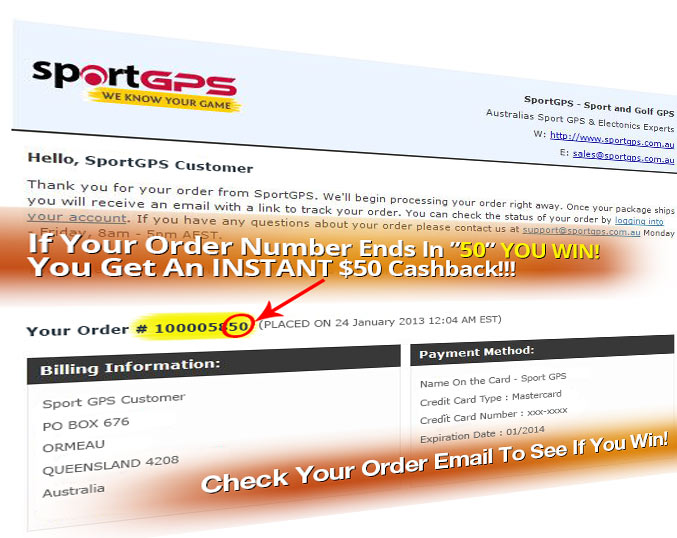 Terms and Conditions
At SportGPS, we love to give back to our loyal customers and fans, that is what sets us apart from the rest. The SportGPS customer cashback promotion couldn't get any easier and fairer.
Simply place an order with our store and you could be eligible to get an instant $50 cashback on your order. As soon as your order is placed and you receive your confirmation email, you will know if you have won or not! Its that simple. Below are the general terms and conditions of the promotion.
Simply place an order with our store to go in the running to win.
Order Numbers are sequential. Multiple winners Guaranteed. Will your order be the next to win?
If your order number ends in the number 50, you will be issued a $50 cashback on your order. The rebate or cashback will be issued straight back to your preferred payment method during checkout (Either Credit Card or Paypal). To claim the cashback simply send an email to support@sportgps.com.au with your order number and we'll take care of the rest.
Your order must be a minimum of $50 to receive the full $50 rebate. Orders below $50 will get their entire order value rebated instead.
Rebate applies to Order Number only. Shipment and Invoice advise emails don't count. Look out for the first email your receive after the order is placed and you will see your order number. eg: Your Order #100005850
It couldn't get any easier or fairer than that! Will you be the next to get $50* off your order?



If you see something you like, don't hesitate, buy and win today. Guaranteed Winners. Find the product you've been looking for, place your order, and you could get $50* cashback. Our staff review all orders and will contact you, and issue your rebate (if your order qualifies) on the same day the order is placed. Thousands of Happy Customers cant be wrong!




Offer Valid Nov 16th 2013 through Until Dec 31st 2013




Good luck, and Happy Shopping from the SportGPS Family